The Dream Catcher ...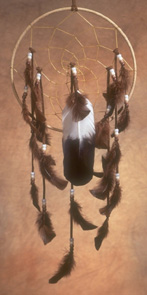 Used by many Native American Indian tribes who believed that the night air was full of both good and bad dreams . . . dream catcher when hung on cradle boards, in lodges and over the beds of all who where looking to have only good dreams as they slumbered.

A dream catcher is believed to work by catching bad dreams as they float about in the night air. Good dreams you see could not be caught in the dream catcher because they could slip through the center hole of the dream catcher, then the good dream would travel down the soft feathers of the dream catcher so gently that according to this myth that the good dream often would go unknown to the one sleeping below the dream catcher to the point where the person sleeping under it fail to realize that they are dreaming. Bad dreams on the other hand, would get trapped and entangled in the webbing of the dream catcher like a harmful insect caught in the web of a spider. Like wise the bad dream would meet it doom and perish with the first light of new day.