Online Catalog
Courtesy Desk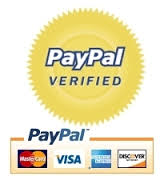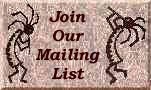 Indian Arts & Crafts Association
Kachina Doll Collection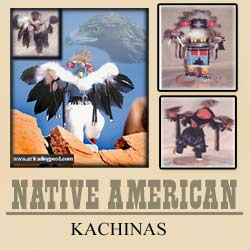 Looking for authentic Hopi and Navajo made kachina dolls? You'll find a wide selection of beautifully handcrafted authentic kachina dolls handmade by well known Hopi and Navajo artist here at AZ Trading Post.
All of are dolls are individually hand-crafted and painted. Only the highest quality materials are used including real deer skin leather, rabbit furs, turkey and pheasant feathers, and paints. Each kachina is signed for authenticity. If you're shopping for someone else, don't worry, they will probably love the kachina doll that you pick for them.
Please Note: Because our Navajo kachinas are carved and decorated by hand there may be a slight difference in appearance from what is shown.
If you don't see something you like at this time check back from time to time because we will be putting other authenic kachina dolls in our store for you to veiw!
Click on any of the thumbnails on the below to see the items we sell.
Click Pictures To Enlarge

Navajo Made Corn Maiden

Kachina Doll




Our hand-carved Corn Maiden is fashioned out of solid deer antler, adorned with turquoise earrings and other authentic stones. Genuine Navajo-crafted.
"Please note colors and variation in designs are possible"

Size: (Approx. 5 1/2" Long)



Retail Price: $130.99 / Your Price: $124.95

In Stock



Click Pictures To Enlarge

Navajo Made Clown

Kachina Doll




A very popular Kachina, he is easily recognized when painted with horizontal black and white stripes over his entire body (Koshare or Hano). He is usually shown in a humorous pose, gorging on watermelon. There are many varieties of this Kachina. His primary function is one of amusement for the audience during pauses in Kachina dancing or as a leavening for the seriousness of a major ceremony. Oftentimes there is an object lesson on improper behavior or a social commentary present in the skits and actions of the clowns. It is said that the Clown Kachina is considered the conscience of the people. This complex Kachina can also function as a high priest, doctor or curer.
"Please note colors and variation in designs are possible"

Size: 12 Inch Kachina
*Please Note: May be different than pictured.


Retail Price: $115.99 / Your Price: $112.95

In Stock



Click Pictures To Enlarge

Navajo Made Angry

Kachina Doll




The Angry Warrior Kachina is a very important war Kachina and acts as a guard to secure the village.
"Please note colors and variation in designs are possible"

Sized: 12 Inch Tall.


Retail Price: $119.99 / Your Price: $112.95

In Stock



Click Pictures To Enlarge

Navajo Made Bear

Kachina Doll




The Bear (Hon) Kachina appears in the Mixed Dance. This great and powerful leader possesses spiritual strength used to protect and cure the sick through his knowledge of roots and herbs. The Bear Kachina is considered to be the number two healer for the people. The Bear symbolizes power, strength, courage, wisdom and healing. Only the Badger Kachina has more power for healing.
"Please note colors and variation in designs are possible"

Sized 12 inch tall.


Retail Price: $119.99 / Your Price: $112.95

In Stock



Click Pictures To Enlarge

Navajo Made Hoop Dancer

Kachina Doll




Primary function of the Ceremonial Hoop Dancer is to amuse the audience during a major ceremony. The circular rings represent the circle of life.
"Please note colors and variation in designs are possible"

Sized: 12 Inch Tall.


Retail Price: $119.99 / Your Price: $112.95

In Stock



Click Pictures To Enlarge

Navajo Longhair

Kachina Doll




This Kachina Doll was made the traditional old fashioned way. It was masterfully hand carved out of genuine cottonwood root. The Navajo artists used the natural shape of the root to help form the body on this one. This Kachina Doll was painted by hand with bright and vibrant colors to help bring life to the traditional designs. Plus, this Kachina Doll has been hand etched with the perfect amount of detail giving it a sense of rich texture. Signed by Navajo Wood carver Marvin Jim. Available in two sizes.
"Please note colors and variation in designs are possible"

Large - 7.5 Inches Tall
Small - 5.5 Inches Tall


Large Retail Price: $49.99 / Your Price: $39.95


Small Retail Price: $39.99 / Your Price: $29.95

In Stock



Click Pictures To Enlarge

Hopi Blue Corn Maiden

Kachina Doll

by Wilson Huma


This Kachina Doll was made the traditional old fashioned way. It was masterfully hand carved out of genuine cottonwood root. The Hopi artists used the natural shape of the root to help form the body on this one. This Kachina Doll was painted by hand with bright and vibrant colors to help bring life to the traditional designs. Plus, this Kachina Doll has been hand etched with the perfect amount of detail giving it a sense of rich texture. Signed by Hopi Wood carver Wilson Huma.
"Please note colors and variation in designs are possible"

Sized 9 inches tall.


Retail Price: $550.00 / Your Price: $495.00

In Stock



Click Pictures To Enlarge

Hopi Carved Yellow Ahote (Sikyahote) Hunter

Katsina Doll

By Conrad Torivio


A'hote is considered a good hunter. He may appear in any of the directional colors, the two most common being the Yellow (Sikyahote) or the Blue (Sakwahote). The A'hote is the Grand Katsina Uncle of the Mixed Katsina Group and appears in the Mixed Dances. The A'hote is painted in two different ways. He appears with planets on his mask. The other A'hote version has a "split" mask with different colors on each side. Both seem to be derived from a Plains Indian because he wears a long trailing eagle feather headdress.
"Please note colors and variation in designs are possible"

Dimensions: 11 inches. tall


Retail Price: $700.00 / Your Price: $650.95

In Stock



Click Pictures To Enlarge

Navajo Large Long Hair

Kachina Doll




The Navajo Long Hair Kachina is one of the most prominent of all Kachinas it is danced from the Rio Grande to the Hopi Mesas. Its purpose is to bring the precious gift of rain to thelife-sustaining crops. These colorful Long Hair Kachinas are Navajo-crafted from Cottonwood, then hand-painted and wood-burned.
"Please note colors and variation in designs are possible"

Large Size: (Approx. 10" Tall)
Small Size: (Approx. 6" Tall)


Large Retail Price: $115.99 / Your Price: $109.95

Small Retail Price: $69.99 / Your Price: $67.95

In Stock