Online Catalog
Courtesy Desk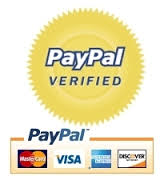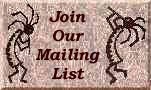 Indian Arts & Crafts Association
Santa Fe Placemats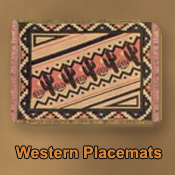 Welcome to our Santa fe and Mexican style placemats page. Here you will find great savings on quality mexican imported blankets and American made placemats in colorful Santa fe, southwest designs. To add a decorative accent to your southwestern home decor', at low prices! So if you're wanting to decorate your home and kitchen on a budget you can!
If you don't see something you like at this time check back from time to time because we will be putting other southwest items in our store.
---
Click on any of the thumbnails below to see the items we sell.
| | |
| --- | --- |
| 11.5" X 16" Placemats | 11.5" X 16" Placemats |
Chimayo Design Placemat
SMCHIMAYO 5
Chimayo Design Placemat
SMCHIMAYO 01
| | |
| --- | --- |
| 11.5" X 16" Placemats | 11.5" X 16" Placemats |
Chimayo Design Placemat
SMCHIMAYO 4
Chimayo Design Placemat
SMCHIMAYO 6
| | |
| --- | --- |
| 13" X 19" Placemats | 13" X 19" Placemats |
End Of Trail Placemat
14856
Native Son Placemat
10763
| | |
| --- | --- |
| 13" X 19" Placemats | 13" X 19" Placemats |
Mimbres Pottery Design Placemat
10916
Kokopelli Design Placemat
14804
| | |
| --- | --- |
| 13" X 19" Placemats | 13" X 19" Placemats |
Cactus Design Placemat
17390
Bullfighter Design Placemat
10766
| | |
| --- | --- |
| 13" X 19" Placemats | 13" X 19" Placemats |
Chillies Jacquard Placemat
20957
Brands Jacquard Placemat
43263
| | |
| --- | --- |
| 13" X 19" Placemats | 14" X 18" Placemats |
Saltillo Serape Placemat
Assorted Colors (Set Of 4)
Desert Sunrise Design
(Pair)